As a teenager did you ever search through books for the "good parts"? Now a group in Fairfax [Va.] - Parents Against Bad Books in Schools - brings those to you on the web without even having to search [although some searching might be involved if you were to actually try to find them in the books]. See Censorship: Fairfax Parents Group Publicizes the 'Good Parts' [including the links].

Then, if you are of a mind, send in your own list of "good parts," with their complete location in the books you read and I will consider putting some of them on my web site. Alternatively, rate the books which are mentioned by PABBIS and I will post your votes on my web site with full attribution.
George Loper
george@loper.rog
www.loper.org/~george/
---
Calvin Reid ("Conversation with Calvin Reid on Electronic Publishing," Archipelago Vol. 4, No. 4) writes to us about two comics artists:
"Jessica Abel's comics offer a subtle anthropology of her own generation of socially audacious, mildly bohemian post-feminists. She uses comics like a tool, observing, documenting, examining the social dynamics of a free floating crowd of young, urban, pleasure seeking bar hoppers. Her writing, in combination with her crisp, precise, stylishly assured drawings, chronicle the shifting relationships between the young and unfocused; men and women who aren't necessarily what they would like to be and haven't quite figured out how to become it. She's a reporter of sorts, and emotional veracity is her beat.
"Her deft accumulation of the social details of these relationships, friendships and dubious one-night stands, can be seen as artful dispatches from a thoughtful correspondent on contemporary manners."
Jessica Abel, ARTBABE
Comics: SOUNDTRACK: Short Stories 1989-1996. MIRROR WINDOW: an Artbabe Collection
ARTBABE Vol. 2, Nos. 1, 2, 3, 4. (Fantagraphics)
JESSICA ABEL, INTREPID GIRL REPORTER: "20 page photocopied digest-size minicomic collecting various journalistic comic strips from other publications." ESCUADRON RESCATE/ASI PASAN LOS DIAS: "Adventure story about the amateur Rescue Squadron that lives on my block, backed with a melancholy tale of being an ex-pat in Mexico by Matt Madden. (Highwater Books P.O.Box 1956 Cambridge, MA 02238)
"Eyes Only" : Three Panels by Jessica Abel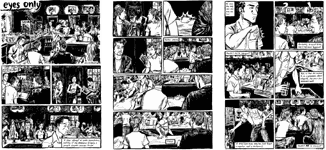 (click on image to see it full size.)
©Jessica Abel
"Matt Madden's comics can also recreate a vivid sense of a generation lingering in a pleasant social limbo, suspended eternally between renting and owning. His characters are young, sporadically ambitious and heavily attracted to bars, loud bands and minimum wage jobs. But Madden is a formalist trickster disguised a quirky realist. He revels in the idiosyncrasies of comics styles past and present; in the syntax of words and pictures seamlessly combined. His comics generate surprising perspectives in apparently naturalistic stories that can focus on a human guinea pig-for-money or, as in his forthcoming graphic novel ODDS OFF, a dislocated, disaffected foreign-born graduate student who finds herself lost in a battle between language and sub-language. His drawings are simple, engaging the eye and the mind with expert, telling social details. But they are also strategically and semiotically elastic, offering both a sense of irony, a deep poignancy and a playful rearrangement of the elements of comics style."
Matt Madden www.mattmadden.com
ODDS OFF (Highwater Books)
"Exercises in Style": "a work in progress based on the work of the same title by the French author Raymond Queneau, a member of the experimental literary group Oulipo." On the Web in English.
Exercises de style version français
Esercize di Stile versioni italiano
Matt Madden : Three Panels from "Exercises in Style"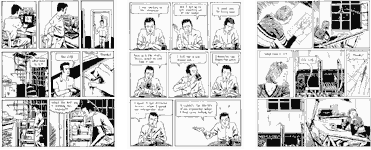 (click on image to see it full size.)
©Matt Madden
next page