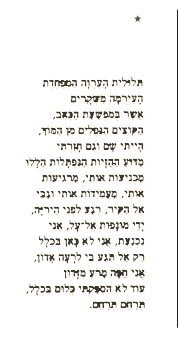 "The Frightened Pubic Mound"
The frightened pubic mound
denuded by lies
in pain's crotch,
the thorns separated from the cotton,
I've been there and back;
why do these twisted hallucinations
subdue me, soothe
me, raise me, my back
to the wall a moment before the shooting,
my hands in the air, I
surrender, I'm not here at all,
just don't hurt me sir,
I'm innocent,
I haven't done anything,
Take pity, pity.
______________________________
İRachel Eshed. İtr. David Cooper. The Hebrew text is a digitized copy taken from HAVTACHOT KATANOT(LITTLE PROMISES) published by Hakibbutz Hameuchad Publishing House Ltd., P.O.B. 1432, Bnei Brak 51114 (Tel Aviv) in 1996; with permission.